Get A
Great

Voice Over Demo!

Thank you for your interest in our Voice Over Demo Production services. Getting a great demo produced is one of the most important things you can do for your voice over career – and we're committed to help you to make sure you sound the best that you can be!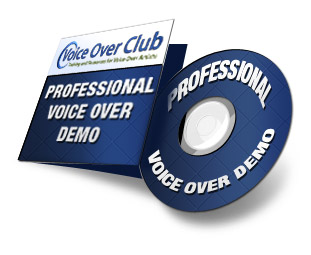 To help you better understand what to expect in this process, we've outlined the process below…
Step One: We'll begin with a brief 10 min meeting with one of our experienced voice over producers, so we can hear your voice and determine what kinds of scripts would be ideal for your style and range.
Step Two: Most demos include 2 separate examples (both "commercial" and "narrative") to best showcase your talents and we'll work with you to assemble the scripts that best match up with your vocal style. For example, if you have a warm and conversational tone, we won't want to choose a "Tractor Pull" script – instead, a softer script will be chosen to better represent your style. This is another reason why it is so important to have an EXPERIENCED PRODUCER work with you on your demo!
A DropBox folder will be created for all of the scripts so that you can easily access them online.
Step Three: Next, we will locate and book a suitable studio (within 20 miles or less from your location) for you to record in. By providing us with your zip code – we'll carefully search for a professionally equipped studio in your area with an experienced engineer who will make sure your recording is done properly – with the best microphone and processing for your particular vocal style. Our voice over producer will also be patched live in via phone or Skype to direct, coach and guide your performance as you record – helping to ensure you get the BEST performance for your demo. Plan on a 60 minute session.
Step Four: Once recorded, the engineer will send us your recordings and we will do all of the mixing and mastering of both demos. Music and sound FX will be added to create and authentic and convincing commercial and narration quality to your demo!
Step Five: Once completed, you will be provided with a high-quality, mixed, mastered and polished recording of both your Narration and Commercial demos. Both a WAV and MP3 version of both demos. Both demos will be conveniently be placed securely in your DropBox folder for instant downloading. Please note: we do not mail out CD's with this data.

Now YOU can have a world-class voice over demo,
just like these professional examples!
Here's What You Will Get
We'll help you find just the right scripts for your voice and style, and upload them to your own personal Dropbox folder for you to practice with.
We'll locate a suitable recording studio in your area with a professional engineer that you can record at (studio costs are all included).
An experienced voice over producer will join your session via phone or Skype to help ensure your performance is the best that it can be.
We will edit, mix, master and sweeten your recordings into a world-class voice over demo that you can be proud to send to prospective clients and agencies!
All of These Professional Demo Services
will be Provided for You for Only $997.00!

Our Guarantee
We are committed that you feel delighted with your voice over demo. So if you are unhappy for any reason, we'll provide you with up to 2 remixes of your demo (free of charge) – to help ensure that you get a demo that you are happy with!