Expert Interviews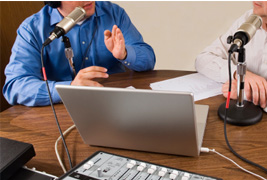 Members receive FULL ACCESS to expert interviews with some of the world's TOP voice actors in the industry today!
Randy Thomas
Ben Patrick Johnson
Erik Sheppard
Erik Sheppard – "Today's Voice" has over 12 years of professional experience, voicing thousands of high profile projects across the globe ranging from corporate presentations to national radio and television campaigns. He is consistently the preferred male voice for many of the most widely recognized corporate, commercial and promotional production companies worldwide. Clients include Verizon Wireless, Citibank, HSBC, American Express, Ebay, MTV and TV Land.
When not in the booth, Erik is an industry blogger, host of "The Erik and Ember Show", and organizer of the Voiceover Mixer series of networking events. He is the owner and head talent agent of Voice Talent Productions, a New York based agency representing an elite roster of voice talent from around the world. His career and related projects have been profiled in such places as Voice-Over Xtra, Voices.com, Voice123.com, The Voice Over Insider and countless other blogs and podcasts. If it is happening in the voice over industry, chances are Erik is involved.
Erik coaches exclusively through the prestigious Edge Studio headquartered in Manhattan, NY.
Members login to view this content. (Not a member? Join today!)
Expert Interview with Voice Actor Ben Patrick Johnson.
Ben Patrick Johnson did a brief stint at E! Entertainment Television before moving to Extra's rival entertainment magazine Entertainment Tonight, where he was ET's signature voice for the next four seasons.
Ben is currently one of the 5 top-earning voice actors in Hollywood – appearing on CBS (promoting Survivor, CSI: NY and other shows), Fox (advertising House, Bones, NASCAR and Major League Baseball), the cable channels Starz!, NFL Network, Big Ten Network and others. His voice is used to promote movies and in commercials for Burger King and Kellogg's. (Yeah, he's a BIG SHOT!)
Members login to view this content. (Not a member? Join today!)
Terry Daniel interviews Voice Over Pro, Randy Thomas.
Randy Thomas is the first person, male or female, to announce the Academy Awards®, Tony Awards, and Emmy Awards all in a row! She is also the first female to announce the American Film Institute Awards, Screen Actors Guild Awards, and the Miss America Pageant.
Hear Randy, live and in action on this one-of-a-kind Voice Over Club interview!
Members login to view this content. (Not a member? Join today!)